back
FORMA started working with Bric CRM in 2011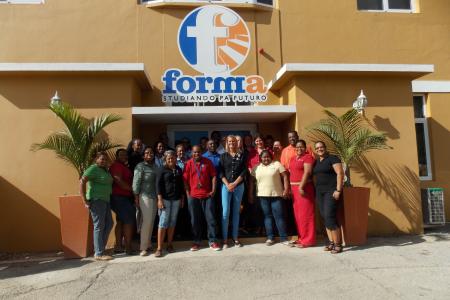 Fundashon FORMA
is an academic institution in Bonaire, Dutch Caribbean that focuses on second chance education, illiteracy and adult education. FORMA aims to educate and develop its students so that after graduation they can successfully take part in the labor market and in society in general.
FORMA wants to ensure that each graduate has a personal perspective in which he or she has adequate communication and interpersonal skills; a positive work attitude, the required job certification and is self-reliant.
FORMA has been using the Bric CRM application since 2011, which means they have seen the application grow in terms of functionality. One of the most important solutions that we created for FORMA is the "Courses" module, which allows them to schedule their courses over a semester, to add students to a specific course, to keep track of attendance (which is mandatory if a student wants to graduate) and to report to management.
In addition, FORMA uses the "Contacts" and "Documents" module to have all their student information in one place. Last but not least, if it happens that a teacher is sick and a certain course is cancelled, they send an SMS to all students that are registered for that specific course.
At this moment Fundashon FORMA has over 35 employees.